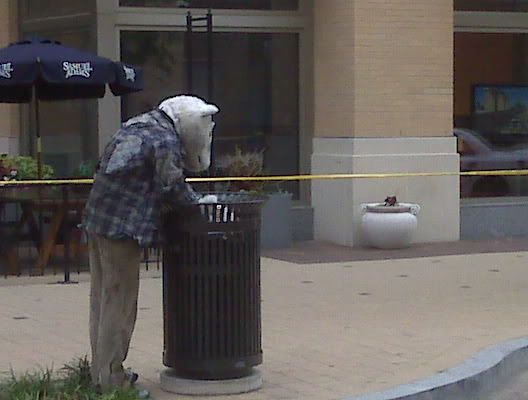 Just got this via AlertDC:
Columbia Heights station is closed due to Police Activity outside of the station. Shuttle bus service has been requested between Georgia Avenue and U Street / African American Civil War Memorial.
Anybody been there? Got any news on it?
UPDATE:
Commenters say it was a teddy bear. Wow. Here's
ABC
on it.
UPDATE 2:
Commenter tmoney says this is the bear! That does look like Commonwealth at
14th and Irving
.
UPDATE 3:
DCist
notes the bear could be
this bear
, a climate change protest of sorts. That would mean somebody could be in the bear. It could be some sort of art project too,
Mark Jenkins
or part of
Brushfire
.

UPDATE 4:
The Metro is back open.
WMATA says
it was a "suspicious package." Yeah, a bear-shaped one.

UPDATE 5:
NBC4 has the
full story
, and
possibly the best photo I have ever seen
.